Crêpes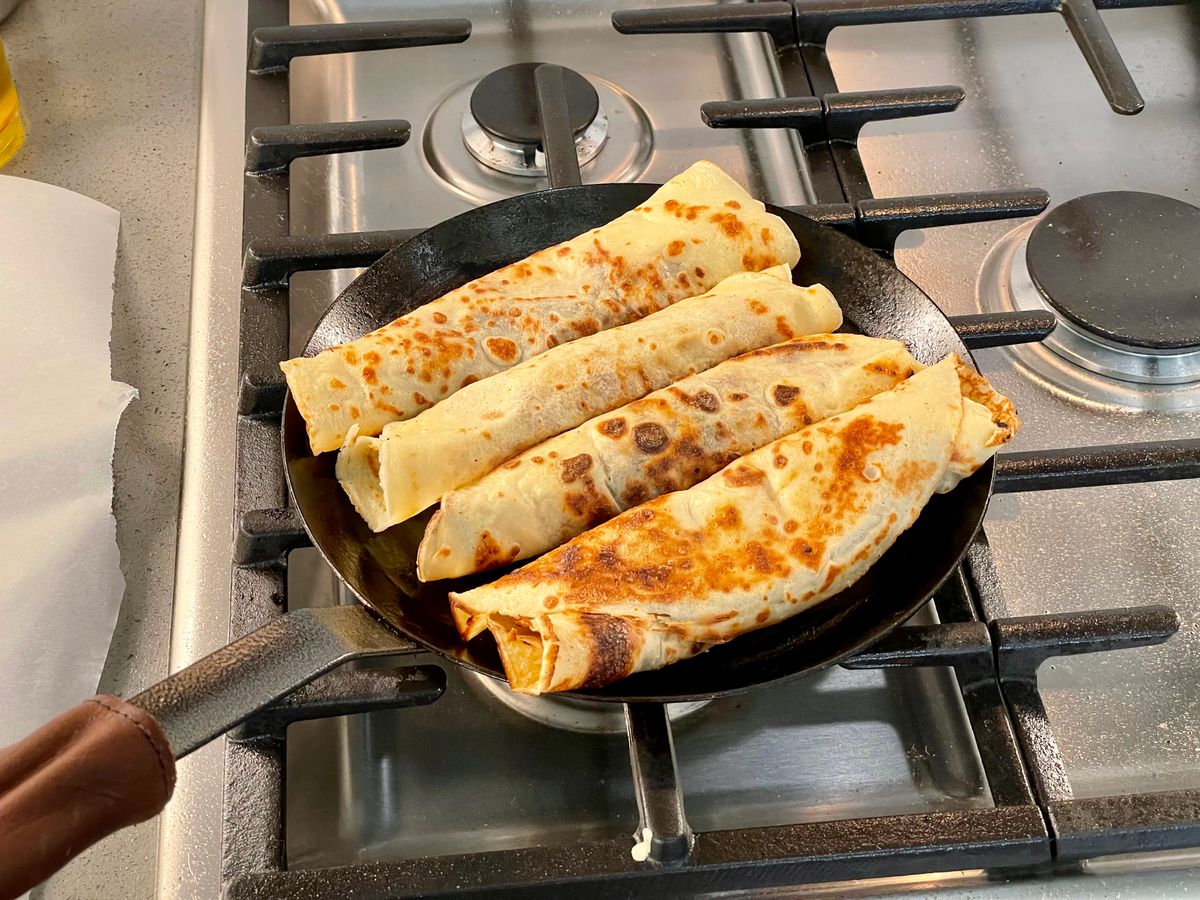 Crêpes are a classic French dish that serve as a quick and delicious snack in the mornings or afternoons. You can fill them up with anything, like hazelnut chocolate, berries and cream, or savory meats and cheese.
Ingredients
2 cups milk, room temperature
4 large eggs, room temperature
1 1/4 cup all-purpose flour
2 tablespoons sugar
2 teaspoons pure vanilla extract
1 1/2 teaspoons kosher salt
1 tablespoon unsalted butter, melted
Grape seed oil, for the pan
Instructions
Add the milk, eggs, flour, sugar, vanilla and salt to a blender. Puree on high speed until completely smooth and slightly thickened and creamy, about 1 minute. Add the melted butter and puree until incorporated, 30 seconds more. Let the batter rest in the blender carafe for at least 1 hour at room temperature or refrigerate up to 24 hours. The longer you allow the batter to rest and hydrate, the lighter and softer the texture of the crepes will be; preparing the night before and letting cool overnight is ideal.
Before cooking, re-blend the batter at high speed for 30 seconds. This will reincorporate the ingredients, a vital step in getting an even golden color on the crepes. Wipe 1/2 teaspoon of oil on a large crepe pan or a 10-inch carbon steel skillet with a paper towel. You don't want to see any drops of oil in the pan, just coat with the thinnest layer. Heat the pan over medium heat until hot.
Ladle 1/4 cup batter into the pan. Working quickly off the heat, swirl and shake the pan to evenly coat the bottom with the batter. Return to the heat and cook the crepe, reducing the heat if it's browning too quickly, until the edges are light golden, about 2 minutes. Slide a spatula underneath to loosen the crepe and carefully flip it over. Cook on the other side until a few brown spots appear, 15 to 30 seconds. Transfer to a plate. Repeat with the remaining batter, wiping pan with oil each time. Stack the crepes on the plate as you go (you should have about 15 total). Let the crepes cool for 10 minutes before serving or filling.
For fillings, I suggest Nutella and blueberries or raspberries, caramel, and whipped cream for sweet crepes. Ham and cheese makes a great filling for savory crepes.